Posts for: March, 2018
By Taney Dental Associates
March 30, 2018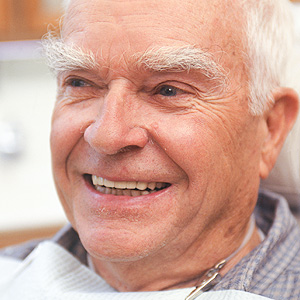 Like many people, you might be caring for an elderly parent or family member. That care should include a focus on their teeth and gums — a healthy mouth is vitally important to their overall health, nutrition and well-being. Because of the aging process, this can be challenging.
Here are 4 areas where you should focus your attention to assure the senior adult in your life has the healthiest mouth possible.
Make adjustments for hygiene. As we grow older, arthritis and similar conditions make brushing and flossing difficult to perform. You can help your senior adult keep up these vital tasks by switching to a powered toothbrush or refitting their brush with a bike handle or tennis ball to make gripping easier. Pre-loaded floss holders or water irrigators are effective alternatives to manual flossing if it becomes too difficult.
Have dentures or other appliances checked regularly. Many older people wear full or partial dentures. Due to the nature of these appliances, the risk of bone loss over time is greater, which can eventually affect their fit. Their dentist should check them regularly and reline or repair them if possible. Eventually, they may need a new appliance to match any changing contours in the mouth.
Be aware of age-related dental issues. Age-related conditions of both the mouth and the body (like osteoporosis, which can affect bone density) can impact dental health. For example, an older person can develop lower saliva flow, often due to medications they're taking. This, as well as gastric reflux common in older people, increases acidity and a higher risk of tooth decay. Past dental work like fillings, crowns or bridges may also make hygiene and additional treatment more difficult.
Keep up regular dental visits. In light of all this, it's crucial to keep up with regular dental visits for continuing teeth and gum health. Besides cleanings, these visits are also important for monitoring signs of tooth decay, periodontal (gum) disease and oral cancer. It's also a good opportunity to gauge the effectiveness of their hygiene efforts and suggest adjustments.
If you would like more information on dental care for older adults, please contact us or schedule an appointment for a consultation. You can also learn more about this topic by reading the Dear Doctor magazine article "Aging & Dental Health."
By Taney Dental Associates
March 15, 2018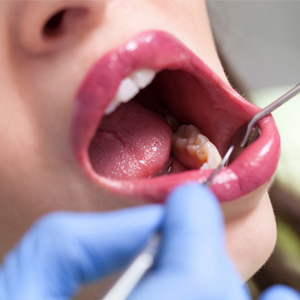 Your regular dental checkups should periodically include an important screening for oral cancer, especially as you grow older. Although oral cancers make up less than 3% of all other types, they're among the most deadly with a 58% survival rate after five years.
Besides hereditary factors, oral cancer is strongly linked to tobacco use, alcohol abuse or diets low in fresh fruits and vegetables. It's also a greater concern as we age: 90% of new cases of oral cancer occur in people over the age of 40, heightening the need for regular screenings. These screenings become all the more important because many early sores or lesions can mimic other conditions like canker sores — without early detection, the disease could already be in advanced stages when it's diagnosed.
An oral screening for cancer involves both sight and touch. We'll first look for any suspicious lesions and red or white patches in the soft tissues of the face, neck, lips and mouth. We'll then feel for any abnormal lumps on the mouth floor, the sides of the neck and in gland locations. We'll also examine all sides of the tongue including underneath, as well as the tissues lining the back of your throat.
If we notice anything that's concerning we may then perform a biopsy by removing a small bit of the suspicious tissue and have it examined microscopically for the presence of cancer cells. We may also remove any lesions deemed pre-cancerous as an added precaution against possible cancer development.
The American Cancer Society recommends an oral cancer screening annually for people forty years or older and every three years for people between the ages of 20 and 39. Even better, we recommend all adults undergo a screening every year. This, along with ending tobacco use and other lifestyle and dietary changes, will greatly improve your chances of remaining free of oral cancer.
If you would like more information on detecting and treating oral cancer, please contact us or schedule an appointment for a consultation. You can also learn more about this topic by reading the Dear Doctor magazine article "Oral Cancer."