Posts for: November, 2021
By Taney Dental Associates
November 20, 2021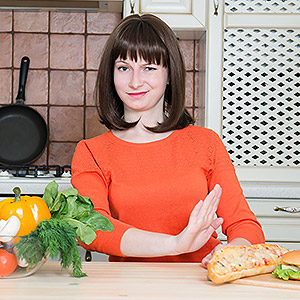 You're doing the right things to avoid the return of gum disease: brushing and flossing every day, dental visits on a regular basis and watching for symptoms of another infection. But while you're at it, don't forget this other important part of gum disease prevention—your diet.
In relation to oral health, not all foods are alike. Some can increase inflammation, a major factor with gum disease; others strengthen teeth and gums. Carbohydrates in particular are a key part of this dynamic.
The body transforms these biomolecules of carbon, hydrogen and oxygen into the sugar glucose as a ready source of energy. But glucose levels in the bloodstream must be strictly controlled to avoid a harmful imbalance.
When elevated the body injects the hormone insulin into the bloodstream to bring glucose levels into normal range. Eventually, though, regular injections of insulin in high amounts in response to eating carbs—known as "spikes"—can increase inflammation. And, inflammation in turn increases the risk and severity of gum infections.
So, why not cut out carbohydrates altogether? That might be akin to throwing out the proverbial baby with the bath water. A wide range of carbohydrates, particularly fruits and vegetables, are a rich source of health-enhancing nutrients.
It's better to manage your carbohydrate consumption by taking advantage of one particular characteristic: Not all carbohydrates affect the body in the same way. Some cause a higher insulin response than others according to a scale known as the glycemic index. It's better, then, to eat more of the lower glycemic carbohydrates than those at the higher end.
One of the latter you'll definitely want to restrict is refined sugar—which also happens to be a primary food source for bacteria. You'll also want to cut back on any refined or processed foods like chips, refined grains or pastries.
Conversely, you can eat more of a number of low glycemic foods, most characterized as "whole", or unprocessed, like fresh fruits and vegetables, or whole grains like oatmeal. You should still, however, eat these in moderation.
Better control over your carbohydrate consumption is good for your health overall. But it's especially helpful to your efforts to keep gum disease at bay.
If you would like more information on nutrition and your oral health, please contact us or schedule an appointment for a consultation. You can also learn more about this topic by reading the Dear Doctor magazine article "Carbohydrates Linked to Gum Disease."
By Taney Dental Associates
November 10, 2021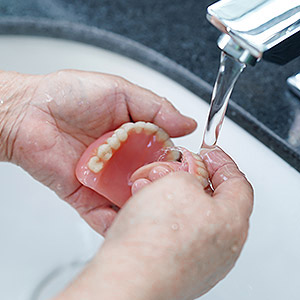 Today's dentures are more comfortable, more functional and more life-like than ever before—so much so that you might forget you have them in. Even so, dentures do have some downsides, and constant wear only amplifies those.
Our biggest concern is the effect dentures can have on bone health. Older bone is constantly replaced by newer bone, and the forces generated while chewing help stimulate this new growth. When a tooth is lost, however, this growth stimulus vanishes with it for that area of the bone. This may result in a slower growth rate, which can eventually lead to lost bone volume and density.
Dentures can't restore this lost stimulus, and may even make the situation worse. That's because traditional dentures rest on the bony ridges of the gums where the teeth once were. This can put pressure on the underlying bone, which can accelerate bone loss—and even more so when wearers leave their dentures in continuously.
Dentures can also contribute to disease if they're not regularly removed and cleaned. Besides oral yeast infections, bacteria-laden dentures can contribute to the production of a protein called interleukin-6 produced by the white blood cells. If a significant amount of this protein passes into the blood stream, it can increase body-wide inflammation and foster a systemic environment conducive to serious diseases like pneumonia.
If you wear dentures, then, it's good for your health (oral and otherwise) to incorporate two practices into your daily life. The first is to remove your dentures at night while you sleep. Not only will this help slow the progression of bone loss, it will also give your gums a chance to rest and recover from denture wear.
It's also important to regularly clean your dentures, either with an antibacterial soap or a special denture cleanser. During storage, keep your dentures in clean water or a peroxide-based solution designed for dentures. This will reduce the accumulation of bacteria on your dentures that can cause disease.
Dentures restore the dental function and smile appearance that a person loses with their teeth. Taking care of your dentures (and giving your mouth a daily rest from them) will help promote good oral and general health for you and a longer life for your dentures.
If you would like more information on denture care, please contact us or schedule an appointment for a consultation. You can also learn more about this topic by reading the Dear Doctor magazine article "Sleeping in Dentures."