Posts for tag: oral cancer
By Taney Dental Associates
April 14, 2018
Although oral cancer isn't the most prevalent among metabolic diseases, it is one of the most deadly with only a 50% survival rate after five years. That's because it can be difficult to detect in its early stages when treatment is most effective.
That's why prevention to reduce your chances of oral cancer is so important. Many people know quitting tobacco products, including smokeless varieties, and moderating alcohol consumption are key to any prevention strategy. But there's one other factor you should also consider: your diet.
We've learned quite a bit in the last few decades about how certain foods we eat contribute to the cancer disease process. Cancer seems to originate when elements in the body or environment (known as carcinogens) damage DNA, our unique genetic code, on the cellular level. For example, a class of chemicals called nitrosamines is a known carcinogen: we often encounter it in the form of nitrites used to preserve meat (like bacon or ham) or as byproducts in beer, seafood or cheese.
Another form of carcinogen is the unstable molecules produced during normal cellular function called free radicals. But our bodies have a natural neutralizer for free radicals called antioxidants. We obtain these substances in our food in the form of vitamins and minerals. While you can also ingest these in the form of supplements, the best way to obtain them is through a diet rich in plant-based food, particularly fruits and vegetables.
So in addition to lifestyle changes like quitting tobacco or moderating alcohol consumption, make sure your diet is a healthy and nutritious one. Limit your intake of processed foods (especially meats) and increase your portions of fresh fruits, vegetables and dairy products.
And don't neglect practicing effective brushing and flossing each day, along with regular dental cleanings and checkups. All of these healthy practices will greatly decrease your chances for life-threatening oral cancer.
If you would like more information on preventing oral cancer, please contact us or schedule an appointment for a consultation. You can also learn more about this topic by reading the Dear Doctor magazine article "Diet and Prevention of Oral Cancer."
By Taney Dental Associates
March 15, 2018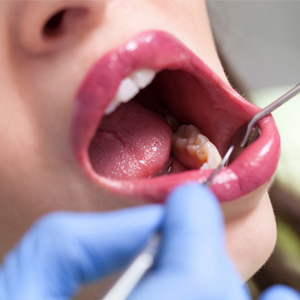 Your regular dental checkups should periodically include an important screening for oral cancer, especially as you grow older. Although oral cancers make up less than 3% of all other types, they're among the most deadly with a 58% survival rate after five years.
Besides hereditary factors, oral cancer is strongly linked to tobacco use, alcohol abuse or diets low in fresh fruits and vegetables. It's also a greater concern as we age: 90% of new cases of oral cancer occur in people over the age of 40, heightening the need for regular screenings. These screenings become all the more important because many early sores or lesions can mimic other conditions like canker sores — without early detection, the disease could already be in advanced stages when it's diagnosed.
An oral screening for cancer involves both sight and touch. We'll first look for any suspicious lesions and red or white patches in the soft tissues of the face, neck, lips and mouth. We'll then feel for any abnormal lumps on the mouth floor, the sides of the neck and in gland locations. We'll also examine all sides of the tongue including underneath, as well as the tissues lining the back of your throat.
If we notice anything that's concerning we may then perform a biopsy by removing a small bit of the suspicious tissue and have it examined microscopically for the presence of cancer cells. We may also remove any lesions deemed pre-cancerous as an added precaution against possible cancer development.
The American Cancer Society recommends an oral cancer screening annually for people forty years or older and every three years for people between the ages of 20 and 39. Even better, we recommend all adults undergo a screening every year. This, along with ending tobacco use and other lifestyle and dietary changes, will greatly improve your chances of remaining free of oral cancer.
If you would like more information on detecting and treating oral cancer, please contact us or schedule an appointment for a consultation. You can also learn more about this topic by reading the Dear Doctor magazine article "Oral Cancer."
By Taney Dental Associates
February 28, 2018
Fans of the legendary rock band Steely Dan received some sad news a few months ago: Co-founder Walter Becker died unexpectedly at the age of 67. The cause of his death was an aggressive form of esophageal cancer. This disease, which is related to oral cancer, may not get as much attention as some others. Yet Becker's name is the latest addition to the list of well-known people whose lives it has cut short—including actor Humphrey Bogart, writer Christopher Hitchens, and TV personality Richard Dawson.
As its name implies, esophageal cancer affects the esophagus: the long, hollow tube that joins the throat to the stomach. Solid and liquid foods taken into the mouth pass through this tube on their way through the digestive system. Worldwide, it is the sixth most common cause of cancer deaths.
Like oral cancer, esophageal cancer generally does not produce obvious symptoms in its early stages. As a result, by the time these diseases are discovered, both types of cancer are most often in their later stages, and often prove difficult to treat successfully. Another similarity is that dentists can play an important role in oral and esophageal cancer detection.
Many people see dentists more often than any other health care professionals—at recommended twice-yearly checkups, for example. During routine examinations, we check the mouth, tongue, neck and throat for possible signs of oral cancer. These may include lumps, swellings, discolorations, and other abnormalities—which, fortunately, are most often harmless. Other symptoms, including persistent coughing or hoarseness, difficulty swallowing, and unexplained weight loss, are common to both oral and esophageal cancer. Chest pain, worsening heartburn or indigestion and gastroesophageal reflux disease (GERD) can also alert us to the possibility of esophageal cancer.
Cancer may be a scary subject—but early detection and treatment can offer many people the best possible outcome. If you have questions about oral or esophageal cancer, call our office or schedule a consultation. You can learn more in the Dear Doctor magazine article "Oral Cancer."