Posts for tag: smoking
By Taney Dental Associates
November 22, 2020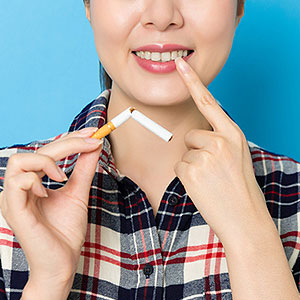 During his exploration of the Americas, Christopher Columbus encountered a native in a canoe loaded with water, food and a strange bunching of leaves. This marked the first European encounter with tobacco, a discovery that still haunts us to the present day. Today, millions smoke tobacco—and many suffer serious health problems as a result, including dental diseases like tooth decay and gum disease.
The American Cancer Society is sponsoring its 44th annual Great American Smokeout this November 19 when health providers across the country encourage smokers to kick the tobacco habit. Dentists will certainly be among them: Studies show that smokers are five times more likely to lose teeth than non-smokers due to a higher incidence of dental disease. Here's why.
Increased plaque and tartar. The main cause for tooth decay and gum disease is dental plaque, a thin, bacterial film that builds up on teeth. Brushing and flossing, along with regular dental cleanings, can keep plaque and its hardened form tartar from accumulating. But substances in tobacco restrict the flow of saliva needed to curb bacterial growth. This in turn can increase plaque accumulation and the risk for disease.
Hidden symptoms. Your gums often "tell" you when you have early gum disease by becoming swollen and red, and bleeding easily. But if you smoke, you might not get that early warning—the nicotine in tobacco interferes with your body's inflammatory response, so your gums, although infected, may look normal. By the time you find out, the infection may have already spread, increasing your chances of tooth loss.
Slow healing. Nicotine can also constrict the mouth's blood vessels, slowing the delivery of nutrients and infection-fighting antibodies to your teeth and gums. As a result, your body may have a harder time fighting tooth decay or gum disease, and diseased tissues can take longer to heal. Slower healing can also complicate the process of getting dental implants.
Increased oral cancer risk. Although it's not as prevalent as other cancers, oral cancer is still among the deadliest with a dismal 50% survival rate after five years. Smokers are six times more likely than non-smokers to develop oral cancer. But by quitting smoking and other forms of tobacco, you could reduce your oral cancer risk to that of a non-user in just a few years.
Kicking the smoking habit often takes a monumental effort, but it's worth it. Quitting not only improves your overall well-being, it could help you gain healthier teeth and gums. To learn how, see us for an up-to-date dental exam—we can show you how getting Columbus's most notorious discovery out of your life could do wonders for your smile and dental health.
If you would like more information about the effects of tobacco on your oral health, please contact us or schedule a consultation. To learn more, read the Dear Doctor magazine articles "Smoking and Gum Disease" and "Strategies to Stop Smoking."
By Taney Dental Associates
March 17, 2020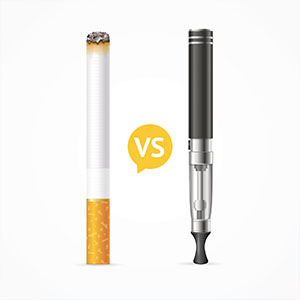 If you think "vaping" electronic cigarettes (e-cigarettes for short) is healthier for your teeth and gums than smoking cigarettes, you might be disappointed with the latest research. A number of studies seem to indicate e-cigarettes could be just as damaging to your mouth as traditional cigarettes.
An e-cigarette is a device containing a chamber for liquids and a means to heat the liquid into a vapor. The user then inhales or "vapes" the vapor, which contains nicotine and flavorings. The heat also pressurizes the vapor causing it to expel as an aerosol into the mouth.
Researchers have found the ingredients and aerosol effect could lead to potential health problems. An Ohio State University researcher found that vaping disrupted the normal balance of microorganisms in the mouth known as the oral microbiome. This imbalance could make it easier for disease-causing bacteria to proliferate, particularly those most responsible for periodontal (gum) disease.
Another study coming out of the University of Rochester and Stony Brook University in New York detected cell damage in gum tissue caused by e-cigarette vapor similar to that caused by regular cigarette smoke. Some of this damage seemed to result from the flavoring agents used in the e-cigarette liquid, as well as nicotine.
Another study from Quebec, Canada appears to concur with the New York study. These researchers found the damage caused by e-cigarette vapor might substantially increase the rate of cell death in oral tissues by as much as 50% over a short period of time. This kind of damage can lead to higher risks of dental diseases like gum disease or tooth decay.
While we don't know the long-term effect of using e-cigarettes on both oral and general health, these studies are alarming: They seem to show vaping may cause some of the same problems as smoking. With the jury still out, the prudent thing to do is limit or avoid vaping altogether to protect your mouth from these unhealthy outcomes.
If you would like more information on the possible oral health effects of e-cigarettes, please contact us or schedule an appointment for a consultation.
By Taney Dental Associates
February 26, 2020
Your risk for periodontal (gum) disease increases if you're not brushing or flossing effectively. You can also have a higher risk if you've inherited thinner gum tissues from your parents. But there's one other risk factor for gum disease that's just as significant: if you have a smoking habit.
According to research from the U.S. Centers for Disease Control (CDC), a little more than sixty percent of smokers develop gum disease in their lifetime at double the risk of non-smokers. And it's not just cigarettes—any form of tobacco use (including smokeless) or even e-cigarettes increases the risk for gum disease.
Smoking alters the oral environment to make it friendlier for disease-causing bacteria. Some chemicals released in tobacco can damage gum tissues, which can cause them to gradually detach from the teeth. This can lead to tooth loss, which smokers are three times more likely to experience than non-smokers.
Smoking may also hide the early signs of gum disease like red, swollen or bleeding gums. But because the nicotine in tobacco restricts the blood supply to gum tissue, the gums of a smoker with gum disease may look healthy. But it's a camouflage, which could delay prompt treatment that could prevent further damage.
Finally because tobacco can inhibit the body's production of antibodies to fight infection, smoking may slow the healing process after gum disease treatment.  This also means tobacco users have a higher risk of a repeat infection, something known as refractory periodontitis. This can create a cycle of treatment and re-infection that can significantly increase dental care costs.
It doesn't have to be this way. You can substantially lower your risk of gum disease and its complications by quitting any kind of tobacco habit. As it leaves your system, your body will respond much quicker to heal itself. And quitting will definitely increase your chances of preventing gum disease in the first place.
Quitting, though, can be difficult, so it's best not to go it alone. Talk with your doctor about ways to kick the habit; you may also benefit from the encouragement of family and friends, as well as support groups of others trying to quit too. To learn more about quitting tobacco visit www.smokefree.gov or call 1-800-QUIT-NOW.
If you would like more information on how smoking can affect your oral health, please contact us or schedule an appointment for a consultation. You can also learn more about this topic by reading the Dear Doctor magazine article "Smoking and Gum Disease."